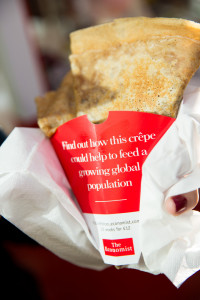 Going way back…
The Economist have been writing about the benefits on the world eating insects for quite some time, in fact as far back as 2008. You could say that they were pretty ahead of the curve considering what has been happening over the last couple of years, with a number of food startups around the world making huge waves and breaking down consumer barriers. Long may it continue.
Here at Grub, we've been fortunate enough to have been supplying our insects for their street campaigns. It all started last year with their insect ice cream during the summer. It was a resounding success, and since the winter they've continued the trend and been using cricket powder to create crepes with a nutritional punch, but also benefitting from the great flavour of crickets, adding a gentle nutty flavour when combined with traditional flour.
Why eat crickets
Products using the powder are a wonderful way to educate people about how great crickets are, which are high in protein (up to 69%), iron and calcium. Crickets also have all 9 essential amino acids (ones that the human body doesn't naturally produce).
Crickets are also sustainable to farm, requiring farm less feed, water and land as their counterparts such as cows, chickens and pigs. In fact, a family of four eating food made using insect protein for one day a week for a year, would save the earth 650,000 litres of water per year.
Here's a few more pictures just to show how great the crepes really are. If you see The Economist on a street near you, be sure to give them a try.