We source and sell edible insects, host exciting insect food events, and develop delicious new insect recipes.
meet the founders…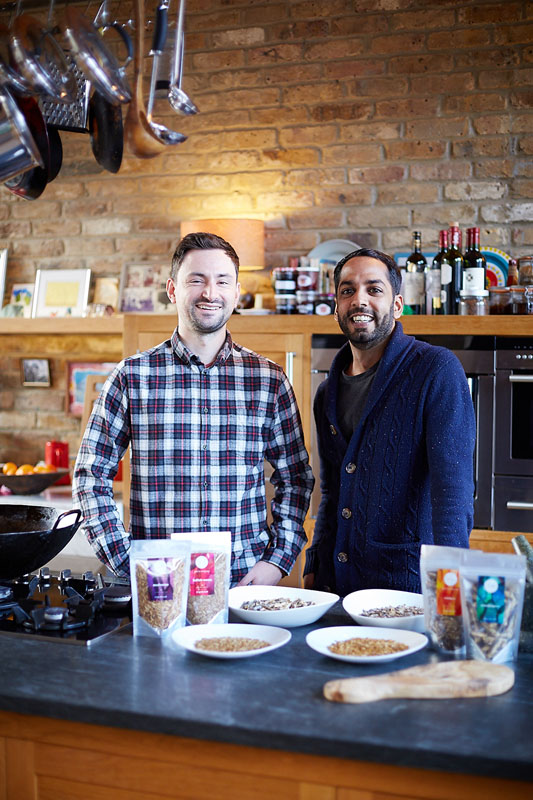 Friends Shami and Neil are the guys who brought Grub into being, with their shared passion for encouraging people to embrace insects as a food source.
In his marketing work with international charities, Shami travels to many countries around the world. One such project visit took him Malawi, East Africa, where he saw a whole community's excitement at roasting and eating the flying termites that abound at the beginning of the rainy season. He saw that the presence of such a small creature brought a great collective joy, and he experienced the great taste of these little wonders. These two things were enough to convince him that selling edible insects in the UK was a project worth trying.
Neil's background in TV and media has brought him into contact with numerous food programs, including a few featuring famous chefs. His interest in exploring new foods was kindled at the tender age of 19 when he was diagnosed with Crohn's disease. This debilitating bowel condition which calls for a selective, enriched diet. Edible insects are potentially brilliant news for sufferers, thanks to the abundance of nutrients they contain, coupled with their low levels of complex fats. Due to Western stigma, Neil went 11 years without knowing that such a great food was missing from his diet!
Together, Shami and Neil have seen Grub through from a chat at Neil's party to what you see today. And the best bit is they're just getting started!