Roasted tomato and pancetta pizza with cricket flour dough
recipe information
Serves 2 - 3
(or 1 we don't judge)
Ingredients
250g/9oz/scant 2¼ cups plain (all purpose) flour, plus extra for dusting

125g/4oz/scant ⅔ cup cricket flour

1 tsp salt

1 tsp caster (superfine) sugar

1 tsp chopped rosemary leaves

7g/¼oz fast (active dry) yeast

2 tbsp olive oil

225ml/18fl oz/ 1 cup warm water, about 45°/113°F

For The Topping

400g/14oz canned chopped tomatoes

2 garlic cloves, chopped

salt and freshly ground black pepper, to taste

3 tbsp tomato purée (paste)

6 rashers (slices) of pancetta, chopped

200g/7oz/1¾ cups mozzerella cheese, torn up

8 vine cherry tomatoes, on the vine

a handful of rocket (arugula)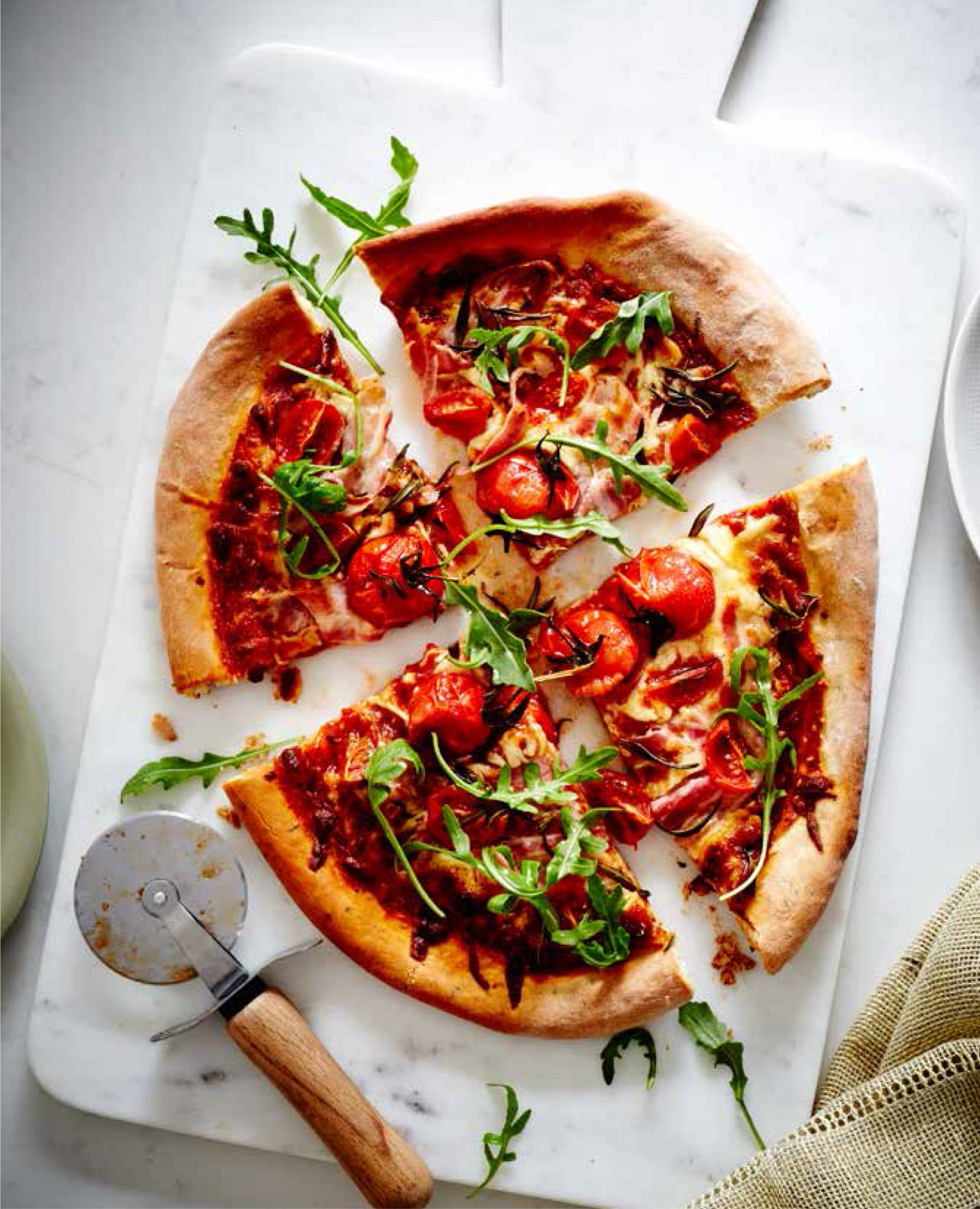 Cricket flour is such a versatile product, it jumps from pot to pan in a whole range of our recipes. When you think crickets, you may not think instantly of pizza (we get it). But our rosemary pizza dough is here to change your mind. Super easy to make, the mixture rises and cooks fast. Plus, you will be adding unique micronutrients to every slice.
Method
1. First, make the dough. Combine the flours, salt, sugars, rosemary and yeast in a large bowl. mix in the oil and warm water, then knead together with your hands until everything is combined and the dough is not sticky but soft to the touch. Place the dough in a bowl and wrap in clingfilm, then leave in a warm place for 20 – 30 minutes.
2. Preheat the oven to 190°/375°/gas mark 5. Place the rested dough on a lightly floured surface (use cricket flour) and, using a rolling pin, roll the dough out into a large circular shape, about 5mm/¼ inch thick, then spread it out on a large pizza pan or tray.
3. Now let's make the topping. Using a food processor, combine the tomatoes, garlic, salt, pepper and tomato purèe until smooth. Spread this mixture evenly over the pizza dough then arrange the pancetta, mozzarella and tomatoes on top.
4. Bake in the hot oven for 20-25 minutes, or until golden brown.
Serve garnished with rocket. This pizza is best eaten straight away. Don't make it too far in advance as the pizza dough will continue to rise if not used at once.